Great technical support exists when you can reach it whenever and wherever you need it. This is why Cafederic offers you two ways to get in touch with its technical support: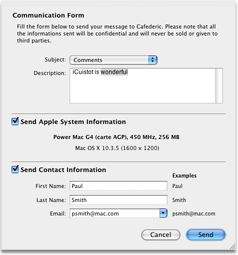 1. Sending from iCuistot
Always available when you are working with iCuistot, the Communication Form simplifies all the communications with the technical support of Cafederic. All the informations is always kept filled, so you only need to concentrate on your message. Forget about everything else. To protect your privacy you are allowed to send anonymous messages and choosing whether you send your Macintosh system information. Please note that all the informations sent will be confidential and will never be sold or given to third parties. Exactly what you expect from a state of art technical support.
2. Sending from the Web
Fill the form below and someone from Cafederic will answer your concern shortly. The only reason we do not provide an email address here is to reduce the quantity of junk emails that we receive. We hope you understand.