When shopping online, you want fast, secure and trusted transactions. This is why we have elected years ago Kagi as our online merchant. Kagi offers two ways to buy software license: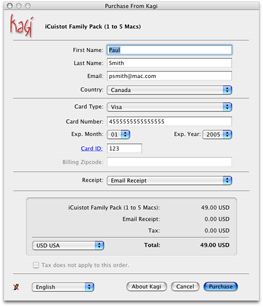 1. Buying from iCuistot
Available when you are working with iCuistot, the Purchase From Kagi will help you execute your transaction from start to finish. iCuistot registration with the Activation Code will done automatically. No retyping necessary. Simply choose "Buy your iCuistot License…" from the "iCuistot" menu. The standard "Purchase From Kagi" will appear. Fill the form and follow the instructions. The whole process should take you around 2 minutes to do. Whatever the path you choose, from whithin iCuistot or from the web, you can be reassured that whole transaction will be secure.
2. Buying from the Web
Fill the form below and you will go the secure Kagi online store.